WORK FROM HOME.
COVID-19 Has affected the way we used to work.
COVID-19 closed the office and turned our homes into our workplace. This has impacted everything about daily life. Boundaries have disappeared, our colleagues call around the clock. We work at our dining room table, in bed, on sofas…
Going forward, finding the balance of how to create personal interaction and virtual collaboration will be critical for our well-being and of a functioning society.

It's been a month since the implementation of the circuit breaker measures. To everyone that has been working on your laptops for long hours at home; is your body aching?
The problem might lie in your chair.
Since the implementation of working from home, most people have been working from their dining area or their sofas. The thing is, these types of furniture do not support both PC work nor long hours of seating, which might be causing those body aches.
A Good And Comfortable Office Chair Requires 3 Points:
1. Body pressure distribution
If your thighs and butt hurt from a long hour of seating, get a chair that can distribute your body weight properly. Hence, the pressure is not only concentrated on those two areas.
2. Good Lumbar support
If you find yourself slouching or overarching your spine, make sure to seat all the way back to the backrest, for proper support. Ensure that the backrest supports the natural "S" shape of the spine
3. The "Goldilocks" size
Get a chair that is of the right size for you. You will not be able to benefit from the chair's ergonomic features if it is too large or too small for your body. Having an adjustable chair (such as seat depth adjustment, lumbar adjustment, etc.) can help achieve a chair that is more customised to you.
I am worried about lack of exercise while sitting down
→ We recommend ING chair
ING is the world's first 360° gliding chair. It is equipped with a gliding mechanism that can freely move 360° according to the movements of the human body, allowing you to exercise while sitting.
Ing, which brings out the body movements while sitting, can be expected to have the same effect as when exercising. For example, comparing calorie consumption, the result is that sitting at ing for 4 hours and shaking while doing desk work is equivalent to walking for about 1.5 km. (Average calories burned while swinging while working with an activity meter, n = 5 * Test results of 5 males from 40 units. * 30-minute measurement is converted to 4 hours.)
360° gliding, uses a combination of two layers of mechanics to follow any movement of the body, including forward-leaning, backwards-leaning, and left and right twists. Therefore it does not interfere with the free movement of the body. A mechanism like a swing that does not use springs eliminates the load at the beginning of the movement. It makes it easier to move the body. Also, since the seat moves back to centre after you move, you can safely get up from the chair without losing your balance.
Explore ING Chair
Even if it is in the living room, it should look good
→ We recommend FABRE
Smooth curved and textured stretch that blends into living and dining spaces. Many colour variations are available to match naturally with the interior design of your home. Although the seat surface has a light impression, the elastic mesh absorbs the shock when sitting, and the moulded urethane stabilises the posture.
Explore FABRE
I want to adjust it to my physique and taste
→ We recommend BEZEL
Bezel is a high-grade chair that supports a variety of postures, such as the forward-leaning posture often used for PC work and the relaxed backward leaning posture. To reduce the pressure on the thighs while sitting for long hours, the seat surface can independently lean forward by lever operation.
You can adjust the settings of the chair to suit you by adjusting not only the height and depth of the seat but also the strength of rocking mechanism and the strength of the lumbar support that supports the back (models with lumbar support only).
Something that has a useful function and is reasonably priced
→ We recommended ENTRY
ENTRY is a cost-performance chair that combines design and function equipped with a "Synchronous locking mechanism" that moves the backrest and seat surface in conjunction with the posture of the sitting person, a "Lumber support function" that matches the line of the individual's spine, and a "depth adjustment function" that makes sitting comfortable.
Explore ENTRY
I don't want something that looks like an office chair
→ We recommended ANY
A simple four-legged chair that looks good and is comfortable in the dining room. Easy to move with a small caster of the same colour as the frame for a seamless design. Despite its compact appearance, it uses the same moulded urethane as the office chair for the cushion, giving you a comfortable sitting feeling.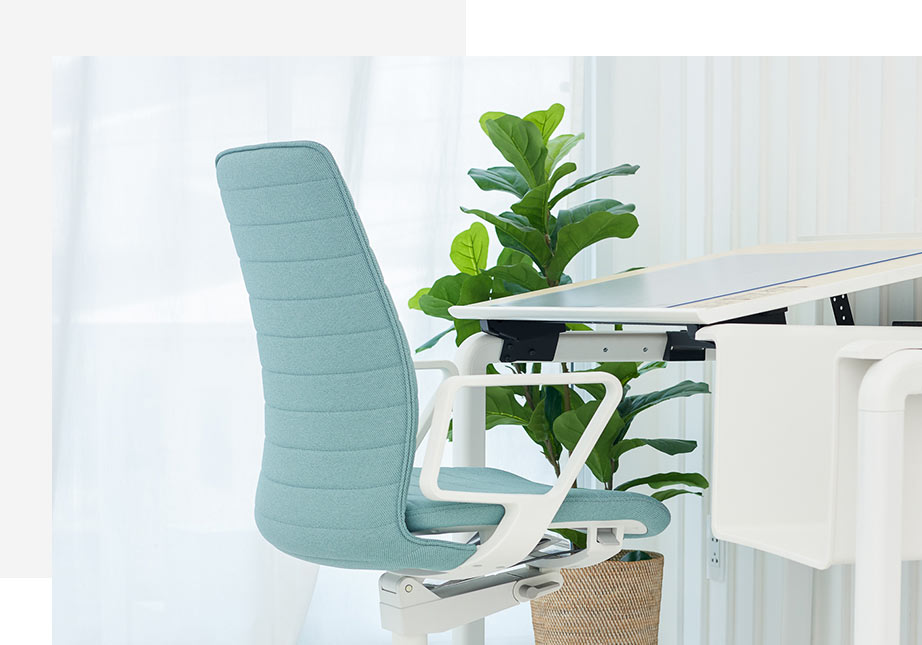 conclusion
Working and sitting for long hours has really taken a toll on our bodies. Having proper ergonomics can not only improve your overall well-being in terms of body postures, it can also help improve productivity when you are less bothered with muscle aches and strains.